Southern Oregon Wedding Venues & Locations
If you're like most couples, finding the perfect wedding venue is the first thing on your planning checklist. Most importantly, the ceremony location is where you'll say your vows and celebrate with friends and family. Lucky for you, Southern Oregon is home to some of the greatest wedding venues in the state! Whether it's an intimate event on a fruit farm or vineyard for your Ashland wedding, a large themed event at a golf resort for your Medford wedding, a charming elopement in one of the orchards for your Jacksonville wedding, a beautiful Rogue River park for your Grants Pass wedding, or a private rustic ranch for your Klamath Falls wedding, we've got you covered!
Read More
Southern Oregon venues can be more than just the ceremony. From the bridal shower to the rehearsal dinner to the reception, a lot of our venues and resorts offer in-house catering, cakes and coordination! We're sure you'll find the perfect spot wherever your getting married, from Ashland, Medford and Grants Pass, all the way to Klamath Falls and the southern coast!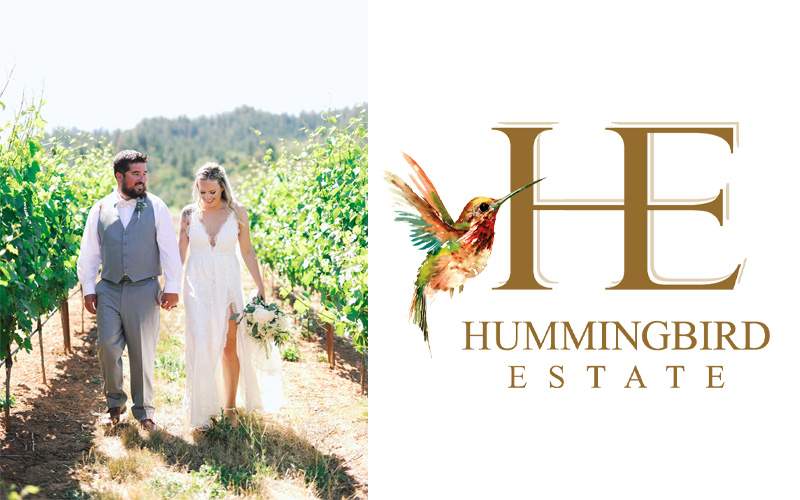 Hummingbird Estate
1677 Old Stage Rd.
Central Point, OR 97502
(541) 930-2650
Over-looking the Rogue Valley, Hummingbird Estate's tasting room, bed & breakfast, and event venue welcomes guests to taste wine, relax in the luxury suites, and host vineyard weddings on the lawns of the historic 1926 property in Southern Oregon. Hummingbird Estate—A Place Like No Other. We are proud to host weddings up to 200 people.
www.hummingbirdestate.com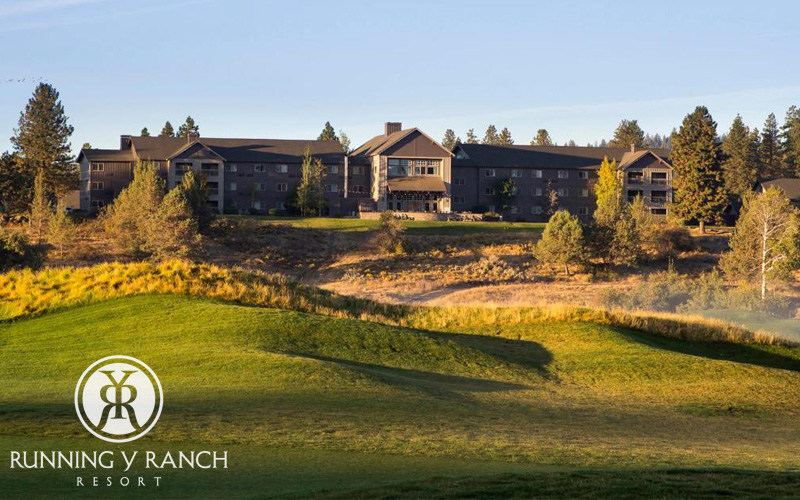 Running Y Ranch Resort
5500 Running Y Road
Klamath Falls, OR 97601
(541) 850-5500
Fresh mountain air and beautiful landscapes make Running Y Ranch the perfect backdrop for your intimate, highly personalized wedding. Our inspired, romantic setting can accommodate up to 500 guests and features world-class accommodations and amenities including our 82-room Lodge at Running Y Ranch, the Sandhill Spa, the Arnold Palmer Signature Golf Course, the on-site restaurant and complete banquet services, miles of walking, hiking, and biking trails, and a team of dedicated professionals ready to help craft your vision into a one-of-a-kind celebration of your unique love, family and friendship.
www.runningy.com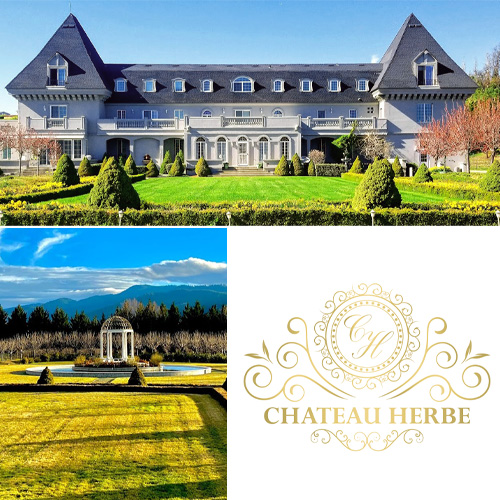 Chateau Herbe LLC
1280 Oak St.
Ashland, OR 97520
(541) 941-9061
EUROPE IN OREGON VENUE SPACE
This magnificent estate emanates the elegant refinement of a Chateau in France. From corporate events to weddings we make your vision come to life. The Chateau venue space boasts sweeping views of the surrounding mountains, a large koi pond, with a beautiful pergola, waterfalls, and water features on the 27+ acre estate. Enjoy the rose garden, Trevi fountain, and manicured lawns.
www.chateauherbe.com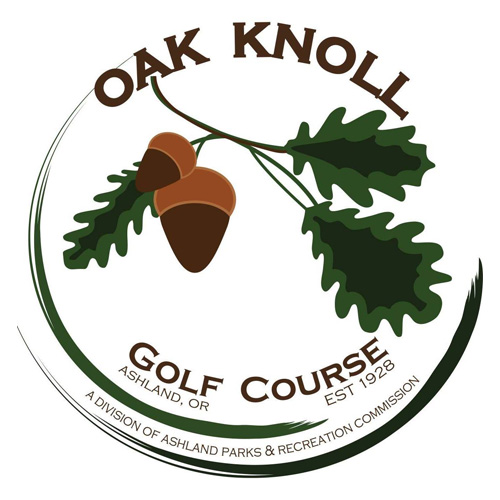 Oak Knoll Golf Course
3070 Highway 66
Ashland, OR 97520
(541) 482-4311
Oak Knoll Golf Course is the perfect place to host your next milestone event. Our beautiful views of the surrounding mountain side
along with comfortable clubhouse amenities make us the easy choice for your next party. See and experience what people have enjoyed since 1927.
www.oakknollgolf.org
Applegate River Lodge
15100 Hwy. 238
Applegate, OR 97530
(541) 660-0244
Ashland Community Center
Lithia Park
59 Winburn Way
Ashland, OR 97520
(541) 488-5340
Ashland Hills Hotel & Suites
2525 Ashland St.
Ashland, OR 97520
(541) 488-7383
Ashland Springs Hotel
212 East Main St.
Ashland, OR 97520
(541) 631.2006
Belle Fiore Estate & Winery
100 Belle Fiore Ln.
Ashland, OR 97520
(541) 552-4900
Bellview Grange 759
1050 Tolman Creek
Ashland OR 97520
(541) 482-6692
Britt Performance Garden
216 W Main St.
Medford, OR 97501
(800) 882-7488
Callahan's Mountain Lodge
7100 Old Highway 99 S
Ashland, OR 97520
(541) 482-1299
Cascade Mountain Ranch
2500 Jump Off Joe Creek Rd.
Grants Pass, OR 97526
(541) 890-8437
Centennial Golf Club
1900 N Phoenix Rd.
Medford, OR 97504
(541) 857-7574
Chateau at the Oregon Caves
20000 Caves Hwy.
Cave Junction, OR 97523
(541) 592-3400
Courtyard by Marriott
600 Airport Rd.
Medford, OR 97504
(541) 772-5656
Craterian Theater at The Collier Center for Performing Arts
Collier Center for Performing Arts
23 S Central Ave.
Medford, OR 97501
(541) 779-8195 x301
DANCIN Vineyards
4477 S Stage Rd.
Medford, OR 97501
(541) 245-1133
Dancing Deer Mountain
25545 Hall Rd.
Junction City, OR 97448
(541) 683-7808
Eagle Creek Estate
1404 Brownsboro Hwy.
Eagle Point, OR 97524
(541) 826-2137
Eden Valley Orchards / EdenVale Winery
2310 Voorhies Rd.
Medford, OR 97501
(541) 512-2955
Favell Museum
125 W Main St.
Klamath Falls, OR 97601
(541) 882-9996
Firehouse Dance Hall
44 N Front St.
Medford, OR 97501
(541) 951-6823
Fort Vannoy Farms
791 Lower River Rd.
Grants Pass, OR 97526
(541) 787-5506
Grizzly Peak Winery
1600 E Nevada St.
Ashland, OR 97520
(541) 482-5700
Henry Estate Winery
687 Hubbard Creek Rd.
Umpqua, OR 97486
(541) 459-5120
Hillcrest Orchard
3285 Hillcrest Rd.
Medford, OR 97504
(541) 778-8925
Historic Hanley Farm
1053 Hanley Rd.
Central Point, OR 97530
(541) 773-6536
Homewood Suites by Hilton
2010 Hospitality Way
Medford, OR 97504
(541) 779-9800
Junction City Grange
1420 Kalmia St.
Junction City, OR 97448
(541) 998-4703
Lake Creek Historical Society
1739 S Fork Little Butte Creek Rd.
Eagle Point, OR 97524
(541) 826-1513
Lithia Springs Resort & Wine Garden
2165 West Jackson Rd.
Ashland, OR 97520
(800) 482-7128
Live at the Armory
208 Oak St.
Ashland, OR 97520
(541) 552-5346
Melrose Vineyards
885 Melqua Rd.
Roseburg, OR 97471
(541) 672-6080
Moments on the Pond
1578 Sleepy Hollow Lp.
Grants Pass, OR
(541) 761-5954
Orchard Home B&B
1805 South Stage Rd.
Medford, OR 97501
(541) 821-4188
Pacifica - A Garden in the Siskiyous
14615 Watergap Rd.
Williams, OR 97544
(541) 846-1100
Paschal Vineyard & Winery
1122 Suncrest Rd.
Talent, OR 97540
(541) 535-7957
Pfeiffer Winery
25040 Jaeg Rd.
Junction City, OR 97448
(541) 998-2828
Pheasant Fields Farm
1865 Camp Baker Rd.
Medford, OR 97501
(541) 535-3873
Phoenix Plaza Civic Center
220 N Main St.
Phoenix, OR 97535
(541) 535-1955
Pioneer Hall
Lithia Park
73 Winburn Way
Ashland, OR 97520
(541) 488-5340
Plaisance Ranch
16955 Water Gap Rd.
Williams, OR 97544
(541) 846-7175
Red Lily Vineyards
11777 OR-238
Jacksonville, OR 97530
(541) 846-6800
Rellik Winery
970 Old Stage Rd.
Central Point, OR 97502
(541) 499-0449
Resort at Eagle Point
100 Eagle Point Dr.
Eagle Point, OR 97524
(541) 826-8255
Rogue Regency Inn
2300 Biddle Rd.
Medford, OR 97504
541-282-2114
Rogue River Lodge
24904 Hwy. 62
Trail, OR 97541
(541) 878-2555
Rogue Valley Country Club
2660 Hillcrest Rd.
Medford, OR 97504
(541) 772-5965
RoxyAnn Winery
3283 Hillcrest Rd.
Medford, OR 97504
(541) 776-2315
Shadow Hills Country Club
92512 River Rd.
Junction City, OR 97448
(541) 998-2365 x11
SpringHill Suites Medford by Marriott
1389 Center Dr.
Medford, OR 97501
(541) 842-8080
Sungate Weddings
491 Oxyoke Rd.
Grants Pass, OR 97526
(541) 862-1117
The Lodge at Riverside
955 SE 7th St.
Grants Pass, OR 97526
(541) 955-0600
The Riverhouse
7710 Rogue River Dr.
Shady Cove, OR 97539
(541) 774-8183
The Rocky Tonk Saloon
333 E Main St.
Medford, OR 97501
(541) 973-2887
The Teapot on Wheels
1754 Rogue River Hwy.
Gold Hill, OR 97525
(541) 855-4343
Vertical Horizons Treehouse Paradise
3305 Dick George Rd.
Junction City, OR 97523
(542) 595-4751
Weasku Inn
5560 Rogue River Hwy
Grants Pass, OR 97527
(541) 471-8000
Weisinger Family Winery
3150 Siskiyou Blvd.
Ashland, OR 97520
(541) 488-5989
Willow-Witt Ranch
658 Shale City Rd.
Ashland, OR 97520
(541) 890-1998
Wisteria Gardens
1705 Camp Baker Rd.
Medford, OR 97501
(541) 535-5560
Wolf Creek Inn State Heritage Site
100 Front St.
Wolf Creek, OR 97497
(800) 551-6949