Wedding Rentals, Lighting, Décor & Restrooms in Southern Oregon
Southern Oregon wedding and event rental companies have everything you need for your big day! From tents, dance floors, lighting, tables, linens, mobile restrooms and chairs, to china and glassware. You can also rent audio and visual equipment, plates, dinnerware silverware and don't forget the restrooms! Some wedding venues and outdoor ceremony locations don't provide restroom facilities, now you can rent luxury restroom trailers. 
Read More
Elegant Celebrations: Navigating Wedding Rentals in Southern Oregon
In the captivating landscape of Southern Oregon, the choice of wedding rentals is a crucial consideration for couples seeking to transform their vision into a reality. From Medford to Ashland, Grants Pass to Klamath Falls, and Roseburg, each town offers a plethora of rental options, providing essential elements that elevate the aesthetic and comfort of the celebration.
Key Rental Elements & Equipment
Wedding rentals encompass a spectrum of elements essential for creating a memorable and comfortable ambiance. These include tents, tables, chairs, linens, dance floors, professional lighting, and tableware such as china, plates, glasses, and cups. Each component adds a layer of sophistication and functionality to the event.
Quality and Professionalism
Selecting professional and clean rental items is vital for a successful wedding celebration. Reputable rental companies in Southern Oregon offer well-maintained, high-quality items that not only meet the aesthetic requirements but also ensure the comfort and satisfaction of guests. A reliable rental company can provide guidance on selecting the right items that align with the couple's vision and theme.
Enhancing the Atmosphere With Quality Rental Equipment
Wedding rentals in Southern Oregon offer a wide array of choices to create a personalized and beautiful setting. From traditional to modern, rustic to elegant, each town caters to diverse tastes, providing the perfect items to bring the envisioned atmosphere to life.
Town-specific Offerings
In Medford's urban landscape, the cultural hub of Ashland, the serene charm of Grants Pass, the scenic beauty of Klamath Falls, and the quaint allure of Roseburg, couples can access a range of rental options, tailoring their choices to match the unique ambiance of their wedding day.
The selection of wedding rentals in Southern Oregon is not simply about procuring items; it's about curating an atmosphere that reflects the couple's style and ensures a comfortable and elegant celebration. From essential items to decorative elements, the right rentals contribute to a seamless and aesthetically pleasing event, adding a touch of sophistication and ensuring that the day is memorable and enjoyable for all.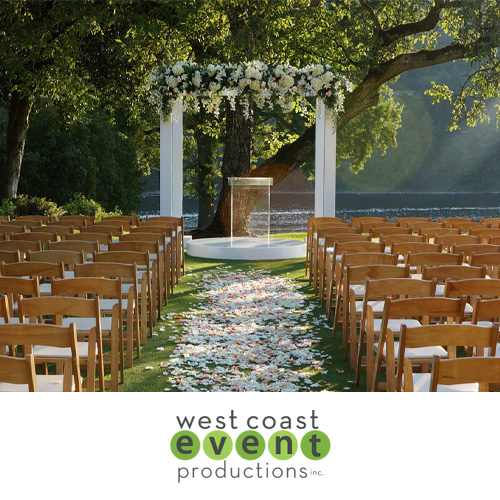 West Coast Event Productions
All of Oregon
(541)-330-0300
West Coast Event Productions is an event production, design and rental company based in Oregon. With over 40 years of experience and three locations servicing the west coast, our accomplished team of consultants, designers and technicians specialize in transforming events into extraordinary experiences. Our inventory of wedding rentals includes a curated selection of tents, dance floors, lounge furniture, linens and tableware. If your vision extends beyond our current catalog, custom fabrication is also available.
www.wcep.com
A-Affordable Royal Flush
PO Box 2868
White City, OR 97503
(541) 772-3389
Budget Porta Potty
Medford, OR
(888) 290-5079
Domeguys International, LLC
4621 Grumman Dr., Ste #C
Medford, OR 97504
(877) 421-5020
Formal Flush
1605 NE 99th St.
Vancouver, WA 98665
(360) 606-3489
Moments: Wedding, Event and Vintage Rentals
1578 Sleepy Hollow Lp.
Grants Pass, OR 97527
(541) 761-5954
Motif Event Rentals
205 N Phoenix Rd., Ste #N
Phoenix, OR 97535
(541) 531-3578
Occasionally Yours Party Rentals
412 SE Jackson St.
Roseburg, OR 97470
(541) 680-0903
Pacific Domes International
585 Clover Ln., Ste #3
Ashland, OR 97520
(541) 488-7737
Party Gallery Event Rentals, Design & Planning
765 S Riverside Avenue, Ste #105
Medford, OR 97501
(541) 841-1474
Party Place
924 Chevy Way
Medford, OR 97501
(541) 776-7729
Party Time Event Rentals
1640 NE Odell Avenue
Roseburg, OR 97470
(541) 672-8552
Posh Potty Rentals
703 Towne Street
Grants Pass, OR 97527
(541)-476-8558
Rockin' Rentals
526 Rogue River Hwy
Grants Pass, OR 97527
(541) 761-8894
Sights & Sounds Unlimited
Grants Pass, OR
(541) 476-8558
Stewards Porta Potties
Southern Oregon
(541) 734-7343