Southern Oregon Restaurants & Wedding Rehearsal Dinner Space
Let us help you find the perfect southern Oregon restaurant for your rehearsal dinner, large group banquet, or private party! This dinner is a chance to take a rest from the planning and spend time with family and friends before the wedding. It's a time for good food and good drinks. Southern Oregon has countless restaurants with rental space and private dining rooms specifically for large groups and rehearsal dinners.
Read More
Savoring Pre-Wedding Moments: Rehearsal Dinner Restaurants in Southern Oregon
The rehearsal dinner sets the tone for pre-wedding celebrations and selecting the perfect restaurant in Southern Oregon is key to creating an intimate and delightful gathering. From Medford to Ashland, Grants Pass to Klamath Falls, and Roseburg, the region offers a variety of dining options to suit diverse tastes and accommodate different dietary preferences.
Private Dining and Banquet Room Options
For couples seeking restaurants that cater to larger groups or private parties, many establishments in Southern Oregon offer banquet rooms or private dining spaces. This allows the wedding party and guests to enjoy an exclusive dining experience while celebrating the impending nuptials.
Diverse Cuisine Options
Southern Oregon's culinary scene offers an array of cuisines across its major towns. From BBQ joints to Mexican cantinas, Italian trattorias, Japanese sushi bars, Chinese eateries, Indian restaurants, and Northwest cuisine venues, couples have a broad spectrum of options. The region also boasts diverse pizza parlors, brunch spots, and more, catering to various tastes and preferences.
Dietary Considerations
Inclusivity in dining is paramount, and many restaurants in Southern Oregon offer options for diverse dietary needs. Whether it's vegetarian, vegan, non-GMO, or gluten-free, these establishments accommodate various dietary preferences, ensuring everyone in the wedding party can savor the meal without compromise. We also have plenty of restaurants that offer local, organic meats, fruits, and vegetables for a true farm-to-table experience.
Town-Specific Culinary Offerings
Medford, Ashland, Grants Pass, Klamath Falls, and Roseburg each offer their unique dining experiences. Medford presents a diverse culinary landscape, Ashland boasts gourmet and international cuisine, Grants Pass features local favorites and fine dining, Klamath Falls offers a mix of traditional and contemporary dishes, and Roseburg's dining scene exudes warmth and charm.
Selecting the ideal restaurant for a rehearsal dinner in Southern Oregon goes beyond simply sharing a meal—it's about crafting a memorable experience. From intimate spaces to vibrant settings and diverse cuisine options, these restaurants provide the perfect backdrop for a pre-wedding celebration, allowing couples and their guests to relish an evening of culinary delight and heartfelt moments before the big day.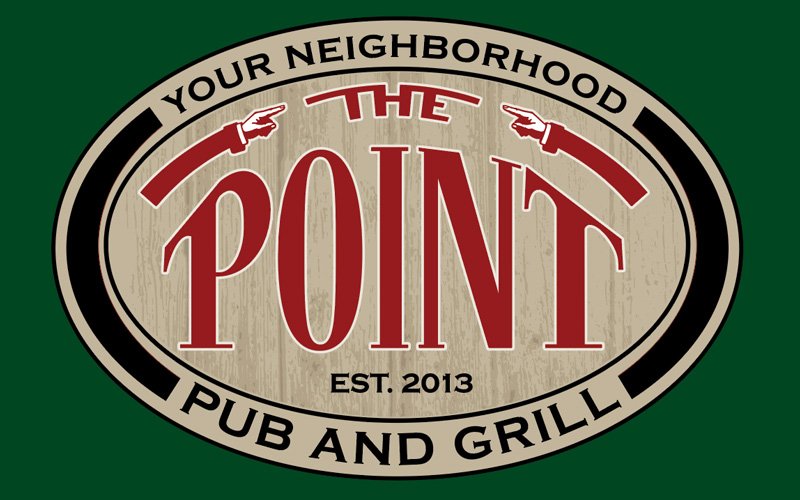 The Point Pub & Grill
MEDFORD:
1345 Center Drive, Medford, OR 97502
(541) 816-4395
CENTRAL POINT:
311 East Pine Street, Central Point, OR 97502
(541) 665-9015
It all started in 2013 when a group of friends in the restaurant industry decided to open a neighborhood pub and grill by purchasing the historic Rostel Building in downtown Central Point, Oregon. After much success, the group has since opened additional locations in Medford and Bend. The Point's mission is to be the world's best neighborhood pub and grill experience. Being the best means providing outstanding quality, service, cleanliness, and value, so that we make every customer smile and say "I'll be back!".
www.lovemypoint.com
Alchemy Restaurant and Bar
35 S 2nd St.
Ashland, OR 97520
(541) 488-1115
Cicily's Pastaria & Grill
1251 E. McAndrews Rd. #110
Medford, OR 97504
(541) 776-3500
Common Block Brewing Company
315 East 5th Street
Medford, OR 97501
(541) 326-2277
Cracker Barrel Old Country Store
1445 Center Dr.
Medford, OR 97501
(541) 772-1164
Cucina Biazzi
568 E Main St.
Ashland, OR 97520
(541) 488-3739
Italianna's Ristorante and Gelateria
2650 Washburn Way
Klamath Falls, OR 97603
(541) 887-2236
Jacksonville Inn Dinner House
175 E California St.
Jacksonville, OR 97530
(541) 899-1900
Larks Home Kitchen Cuisine
Ashland Springs Hotel
212 E Main St.
Ashland, OR 97520
(541) 631-2015
Maguey Cocina & Tequilas
2041 Roberts Rd.
Medford, OR 97504
(541) 200-3673
Mazatlan Grill
2322 Washburn Way
Klamath Falls, OR 97603
(541) 850-9610
McGrath's Fish House
68 E Stewart Ave.
Medford, OR 97501
(541) 732-1732
Original Roadhouse Grill
2699 W Main St.
Medford, OR 97501
(541) 776-3050
Parrott House
1851 SE Stephens St.
Roseburg, OR 97470
(541) 580-0600
Peerless Restaurant & Bar
265 4th St.
Ashland, OR 97520
(541) 488-6067
Porters
147 N Front St.
Medford, OR 97501
(541) 857-1910
RAM Restaurant & Brewery
165 Rossanley Dr.
Medford, OR 97501
(458) 225-9816
Red Robin Gourmet Burgers and Brews
499 Medford Center
Medford, OR 97504
(541) 772-7777
River's Edge Restaurant
1936 Rogue River Hwy
Grants Pass, OR 97527
(541) 244-1182
Roosters Steak & Chop House
205 Main St.
Klamath Falls, OR 97601
(541) 850-8414
Smithfields Restaurant and Bar
36 S 2nd St.
Ashland, OR 97520
(541) 488-9948
Tap & Vine at 559
559 Medford Center
Medford, OR 97504
(541) 500-1632
Texas Roadhouse
1720 Delta Waters Rd.
Medford, OR 97504
(541) 772-2052
Thai Orchid Cafe
900 Main St. D
Klamath Falls, OR 97601
(541) 273-0707
The Regency Grill
2300 Biddle Rd.
Medford, OR 97504
(541) 282-2123
Vinny's Italian Kitchen
970 N Phoenix Rd.
Medford, OR 97504
(541) 772-3668
Wild River Brewing and Pizza Co.
2684 N Pacific Hwy
Medford, OR 97501
(541) 773-7487