Southern Oregon Makeup Artists
It's your wedding day, and you want everything to be perfect. All eyes will be on you; everyone will be snapping photos and taking videos of you and your spouse. Of course, you want to look your absolute best. Even if you normally do your own makeup, chances are you'll want to go the extra mile for your wedding and hire a professional. Southern Oregon's professional makeup artists have got you covered!
Southern Oregon bridal makeup consultants are the best around. From the boudoir photography session to the last touch-up before you walk down the aisle, your makeup will be flawless with our expert MUAs are on the job. Concerned about squeezing in a hair stylist and makeup artist on the same day? Many of our skilled artists offer bridal hair styling services. And if you don't want to have to rush across town and deal with traffic before your ceremony, our MUAs will travel to you. So hire an on-site MUA, and spend more time getting ready in the comfort of your venue space, and less time worried about how you'll get it all done in time.
We know how much thought you put into your dress and hair, and you certainly don't want to skimp on your makeup. Hiring a licensed beautician, esthetician, and nail technologist will ensure that you're stunning from head to toe. Whatever look you have in mind, our cosmetologists and hair stylists can accommodate any style. From organic skin-friendly products that showcase your natural beauty, to dramatic and glamorous fashion makeup, you'll find the perfect artist in Southern Oregon.
So whether you want to keep your look simple or make it extravagant, we'll connect you with professional MUAs in Southern Oregon. Take a look around, and meet our makeup experts today.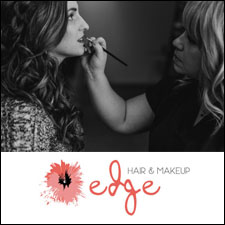 Edge Hair & Makeup
Bend, OR
(541) 410-4384
Edge Hair & Makeup is one of Oregon Brides top choices for bridal hair and makeup. We specialize in on-location hair and makeup services for all types of Weddings and Events. You will be blown away by the quality of our work, our passion for what we do, and our love for you on your special day. With Edge you can ensure that your appearance will be as stunning as your gown.
www.edgehairmakeup.com
A Little Bit of Heaven
Roseburg, OR
(541) 315-1523
Abbinito
50 N Third St.
Ashland, OR 97520
(541) 552-0228
Amanda Rose Esthetics
42 Hawthorne St.
Medford, OR 97504
(541) 678-4008
B'Inspired Studio
250 Oak St., Ste #4
Ashland, OR 97520
(541) 488-4431
Be Cherished
393 E Main St.
Ashland, OR 97520
(541) 482-4900
Beauty by Jen
543 NE E St.
Grants Pass, OR 97526
(541) 226-7304
Benefit Brow Bar
Macy's in Rogue Valley Mall
1800 N Riverside Dr.
Medford, OR 97501
(541) 772-3700
Benefit Brow Bar - Ulta in Northgate Marketplace
Ulta in Northgate Marketplace
25 Rossanley Dr.
Medford, OR 97501
(541) 773-2749
Beverly Davin Professional Makeup Artistry
920 SE Cass Ave., Ste #208
Roseburg, Oregon 97470
(310) 569-6287
Blossom Skin Care, LLC
737 Golf View Dr., Ste #B
Medford, OR 97501
(541) 531-1822
Blush Studio
20 S Central Ave.
Medford, OR 97501
(541) 301-1364
Britta Bocala - Cosmetic Tattoo Specialist
1050 Crater Lake Ave.
Medford, OR 97504
(541) 973-4771
Cielo Salon
1 West 6th St., Ste #100
Medford, OR 97501
(541) 772-4110
Gervais Day Spa & Salon
111 N Central Ave.
Medford, OR 97501
(541) 779-7100
Glamor Us Salon
500 S Central Ave.
Medford, OR 97501
(541) 538-8711
Image Essentials
2900 NW Vine St., Ste #H
Grants Pass, OR 97526
(541)-507-1139
Imani Institute of Cosmetology
2425 Siskiyou Blvd.
Ashland, OR 97520
(541) 488-6766
Janice Moon Artistry
10 N Central Ave.
Medford, OR 97504
(541) 941-8223
JLM Artistry
310 E 6th St., Ste #102
Medford, OR 97504
(870) 805-0973
Lasting Effect
42 Hawthorne St.
Medford, OR 97504
541) 944-8747
Lotus Hair, Body & Soul
209 E Main St.
Medford, OR 97501
(541) 858-8177
Lumiere Salon Atelier
16 N Riverside, Ste #206
Medford, OR 97504
(541) 930-1423
Lynda's House of Beauty
503 Edwards St.
Medford, OR 97501
(541) 779-2357
MAC Cosmetics
Macy's in Rogue Valley Mall
1600 N Riverside Dr.
Medford, OR 97504
(541) 779-2286
Makeup by Reina
3132 State St., Ste #104
Medford, OR 97504
(541) 228-0055
Merle Norman Cosmetics
627 SE Jackson St.
Roseburg, OR 97470
(541) 957-1150
Morgan Victoria Events
Ashland, OR
(541) 821-3059
Posh Organics
253 E Main St.
Ashland, OR 97520
(541) 488-4418
Raines Hair & Makeup
Medford, OR
(541) 414-6441
Robin Opal - Makeup Artist
26 Hawthorne St.
Medford, OR 97504
(541) 601-5205
Sarah Beth Airbrushing
5010 Grange Rd.
Roseburg, OR 97470
(541) 670-0618
Sephora
Rogue Valley Mall
1500 N Riverside Dr.
Medford, OR 97501
(541) 773-8100
Sharaya Ellen Atchinson - Hair & Makeup Artist
Grants Pass, OR
(503) 924-9619
Shawnie Curtis Makeup Artistry
Medford, OR
(541) 326-9087
Skin Care & Waxing by Becky
1745 Ashland St.
Ashland, OR 97520
(541) 324-9128
Trust Salon & Day Spa
824 E Jackson, Ste #B
Medford, OR 97501
(541) 772-5152
Urban Edge Salon
1800 E Barnett Rd.
Medford, OR 97504
(541) 779-3977
Urban Palatte Salon
417 E Main St.
Medford, OR 97501
​(541) 951-4774
Whitney Audra Makeup Artistry
Medford, OR
(541) 890-7464