Southern Oregon Wedding Coordinators & Planners
If you're getting married, you certainly have a lot to do! At first, you're probably so excited to be engaged you might not be thinking about the ceremony. But sooner or later, you've got to start planning. If you're feeling overwhelmed, hire a wedding planner! Southern Oregon wedding coordinators are the best around! If you hire one of our talented coordinators, you will have all the help you need to plan your perfect wedding.
Southern Oregon wedding planners specialize in making your dream wedding a reality. Whether you know exactly what you want or don't know where to start, your wedding designer or bridal consultant will be flexible. Regardless of what you need, there's a package especially for you. Our skilled wedding directors are also happy to design custom packages. From simple "day-of" service to full event design, you'll find it here.
Because your planner handles all the details, your wedding day runs seamlessly from setup to takedown. As the liaison between you and your vendors, your coordinator takes the stress out of planning your big day. Think of all the things you need to do! First, there's the pre-parties and bridal shower to plan, not to mention the rehearsal, and reception. You've also got to choose a dress and tux, decide on the cake and caterer, and send out invitations. Don't forget the venue, florist, music, and decor! Your coordinator helps you handle it all, so your ceremony is flawless from beginning to end.
When you hire a Southern Oregon wedding planner your wedding day will be stress-free and fun. From pre-wedding planning to "day-of" coordination, you've got a partner and guide to help you through. We can connect you with your ideal wedding planner so you and your guests can enjoy a relaxing, beautiful day filled with love.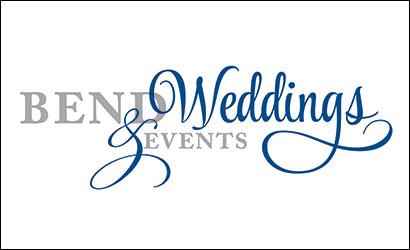 Bend Weddings & Events
Serving All of Oregon
(541) 241-2022
Are you looking to create a memorable wedding? Our goal is to assist you in creating the wedding you have always wanted. We take on the stress so you can have the fun! No matter the style or size we are here to help. With our custom check list, attention to details and over ten years in the industry Bend Weddings and Events will exceed your expectations.
www.bendweddingsandevents.com
A Rose, A Ring, and Wedding Bells
Coquille, OR
(541) 760-4576
ABC Kitchen
Ashland, OR
(541) 292-4412
Abel to Dream - Weddings & Interior Design
Klamath Falls, OR
(541) 331-2239
abeltodream@gmail.com
An Inspired Affair
Medford, OR
(541) 621-2410
CC's Event Planning & Decor
821 Golden Park Dr.
Grants Pass, OR 97526
(541) 660-7556
Des Anthony Events Design
225 E Main St., Ste #210
Medford, Oregon
(541) 531-0800
Easy Street Weddings
Jacksonville, OR
(541) 973-2999
Events With Becca
Medford, OR
(541) 326-1051
Exquisite Events & Design by Nikki
California Based – Serving Southern Oregon
(818) 620-2665
Heavenly Touch Weddings & Events
2688 Connell Ave.
Medford, OR 97501
(541) 261-5478
Oregon Coast Event Rentals
7755 U.S. 101
Gleneden Beach, OR 97388
(541) 264-8491
Party Gallery
765 S. Riverside Ave., Ste #105
Medford, OR 97501
(541) 841-1474
Penny and Lulu Studio Florist
18 Stewart Ave.
Medford, OR 97501
(541) 779-1112
Really Perfect Planning
318 Adeline Dr.
Grants Pass, OR 97527
(541) 218-2274
Red Letter LLC
280 Garfield St.
Ashland, OR 97520
(541) 659-8581
Revive Events
Medford, OR
(541) 951-8162
RSVP Event Group
3937 Crystal Springs Dr.
Medford, OR 97504
(541) 621-5466
Serenity Events, LLC
304 Glenn Way
Central Point, OR 97502
(541) 301-5084
Sights & Sounds Unlimited
Grants Pass, OR
(541) 476-8558
Simply You
419 1/2 E Main St.
Medford, OR 97501
(541) 414-3827
Special Occasions Rental & Design
225 NE Hillcrest
Grants Pass, OR 97526
(541) 474-2255
Starbit Events
Medford, OR
(541) 855-3387
The Bloom & Co.
Grants Pass, OR
(541) 951-7162
VIP Entertainment
DJ & Event Planning
Medford, OR
(541) 973-5958
Wicker Works / She Shed Creations
Roseburg, OR
(541) 673-3949
With Love, Ries
Grants Pass, OR
withloveries@gmail.com